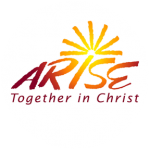 The Diocese of Altoona-Johnstown has announced plans for pastoral and spiritual renewal through the program ARISE Together in Christ by RENEW International. The program will officially launch in fall 2018, but training sessions are underway through spring and summer.
CLICK HERE TO REGISTER FOR SEPTEMBER 2018 TRAINING SESSIONS
CLICK HERE TO REGISTER FOR BISHOP'S SEPTEMBER 23 MASS AND COMMISSIONING
CLICK HERE TO VIEW VIDEO CLIPS FROM MARCH TRAINING SESSION
BENEFITS OF ARISE
Enables parishioners to develop a closer relationship with Christ
Deepens faith through prayer and sharing in small communities
Encourages putting faith into action in daily life
Fosters spiritual renewal and bonds of friendship in the parish
Offers specific approaches and resources for inviting parishioners
Emphasizes outreach to youth and young adults

2018 TIMELINE
January – Orientation Sessions
January/February – Parish kits arrive
April – Launching ARISE: Leadership Training for the ARISE Parish Team
May – Reaching Out: Evangelization Training for the ARISE Parish Team
September – Leadership Formation Workshop
September – Parishes launch the ARISE process with Sign-Up Sunday, and then invite support in prayer with Prayer Commitment Sunday
October-November – The parish-based small communities participate in the six faith-sharing sessions of Season One: Encountering Christ Today.
For more information and to RSVP, contact:
Sister Linda LaMagna, CCW
Diocesan ARISE Coordinator
(814) 742-7894
srllamagna@gmail.com