5379 Portage Street, Lilly, PA 15938
814.886.5551
Fax 814.886.7697
Email: familylife@dioceseaj.org
Staff:
Donna Cook, Office Manager
Jackie Lingafelt, Part-time Secretary
Dolly Templeton, Part-time Secretary
Ages and Stages of Families
enriched and served
by Family Life Ministry
We serve parishes and families of the Altoona-Johnstown diocese:
Bedford, Blair, Cambria, Centre, Clinton, Fulton, Huntingdon, and Somerset.
Traditional
Multi-Generational
Parents
Widowed
Elderly
Bereaved
Married
Engaged
Step-Families
Separated/Divorced
Single Parent
Childless
Young Children
Teens
Singles
Intellectual Disabilities
Family Spirituality
YOUR FAMILY!
Scheduled Family Life Programs and Resources:
FAMILIES AND THE GOSPEL
Reflections on the Sunday Reading
~Used with permission from "Family Perspective" by Bud Ozar
Pictures from the Day of Prayer for Widow and Widowers of the Altoona-Johnstown Diocese–Wednesday, April 11.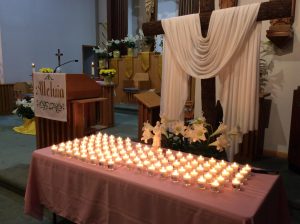 2019 Catholic Family Calendar
Ordering information below
Helpful Links to Family Situations:
Publications for purchase from the Family Life Office: